Andre Agassi has a udemy course on tennis skills, it was launched last year by the legend himself. His course became an instant hit and generated great numbers for him. The former world's number one tennis player from America shares all his experience with the young learners in this course.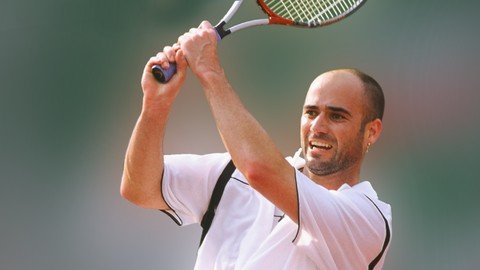 Andre Agassi course stats
Number of Students Enrolled: 6589
Feedback Score: 4.4/5 (Total Reviews 1400+)
Course Created by: Andre Agassi himself
Course Length: 1 hour
Course Last Updated: On 1st of Jan 2017
Link to the Course:  View here
Should you take this course?
Before we say anything,  kindly take a look at the following image and know what will you get from this course exactly
Andre Agassi, the name is sufficient for us to recommend this course to anyone who wants to level up their tennis skills. The champion tennis player has so many records under his name, 1996 Olympic gold medal, won Australian open 4 times, long unbeaten streaks and what not.
If you are getting a chance to learn from the man himself, we don't think there is anything like it. See the kind of experience he brings to this on demand 1 hour course. Its totally unmatchable. What you learn from this course will certainly make you a better Athlete.
Apart from 1 hour video lessons, you will also get 8 articles and 8 supplement resources all by Andre Agassi himself.  On top of all this, the course remains yours for lifetime. You can come back to it anytime and from anywhere.
Why Andre Agassi chose Udemy?
In one of his interviews with Guardian, Andre Agassi said, he launched this course with a philosophy that the teaching should be available widely to everyone and Udemy is a great platform with huge reach.
At this point, we would like to let everyone know that Andre Agassi has been educating kids through his foundation as well. He has  educated more than 38,000 plus kids nationally, the numbers keep growing every year.
In this online tennis training, the former Olympic gold medalist takes learners through his own tennis psychology, like how he handled himself in the court and how he didn't let the victory or defeat into his head. He also teaches the youngsters that the improvement can not be determined by the victory or defeat.
All in all this is the right course or tennis training that can help you level up not only your tennis skills but also how you conduct yourself on and off the field.
Disclaimer: We like to clarify here that we did not know about this course until few days back, we arrived at it through an online research we were conducting. We found this gem and thought about sharing it on our website, so that it can reach out to potential learners.
Do let us know if you have any question in this context, we will be happy to assist. You can contact us through our contact page. Or email us at info(at)onlinecoursesgalore(.)com, we will reply back at the earliest time we can.
Please don't forget to share this article with your friends so it can reach out to all those who would like to learn from The man himself Andre Agassi.