Are you are looking for the top android app development courses online? If yes, consider looking at the courses we have curated. These courses will help you become a professional mobile app developer.
Top Android App Development Courses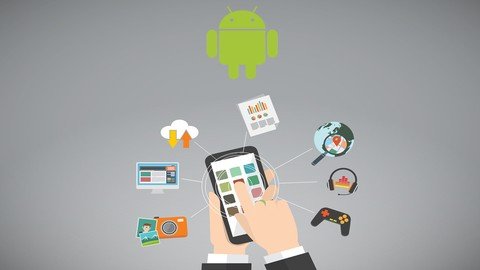 The Complete Android N Developer Course
This course helps students learn how to make and market applications for Android 7 Nougat by building real-world apps that include Whatsapp, Uber, and Instagram clones.
The course has 4.6/5  feedback score after 9900+ ratings and 66,503 students enrolled. Rob Percival is the instructor.
The course teaches how to make almost any Android App one fancies. It helps one become a professional app developer.
If you want more information about this course, please go here
Android Java Masterclass – Become an App Developer
This course helps students write real-world applications for Android 7 Nougat, that would also work smoothly on earlier Android devices. The aim of this course is to help learners become professional app developers.
The course boasts of feedback score of 4.5/5 after 3400 ratings and 27,842 students . The instructors are Tim Buchalka and Jean-Paul Roberts.
The course teaches:
How Android works from the perspective of a software developer
How to develop apps for Android tablets and phones
The best practices and tools so that students can work efficiently with Android development.
Those who want to know more can Go here
The Complete Android & Java Developer Course – Build 21 Apps
This course helps students learn JAVA, Android Development and Android Studio from the beginning. This 56.5 hours long course helps students build Android Apps, Diary App, and Whatsapp Clone.
The course has 4.5/5 feedback score after 2559 ratings and as many as 20,879 subscribers. The instructors are Fahd Sheraz and Paula Dichone. Those who need more details can click here
Android N: From Beginner to Paid Professional
This course helps students learn comprehensive Android Nougat App Development. It has 4.5/5 feedback score after 1800+ ratings, the course 12989 students enrolled.
The course teaches:
To build Android Marshmallow Apps
How to program and code with Java
How to implement Object Oriented Programming with Android and JAVA
The course includes 25 hours of on-demand video, 7 articles, and 5 supplemental resources. Mark Price is the instructor.
Here is the link to full course: View here
The Complete React Native and Redux Course
This course aims to teach iOS and Android App Development from the basics. It helps students build totally native mobile apps amazingly fast.
The course teaches:
How to create real-world and native apps with the help of React Native
Concepts and Terminology of Redux
How to make genuinely reusable components that look excellent
How to discover mobile design patterns used by efficient engineers
React Design Principles and Methodologies
How to prototype and deploy one's own applications to Google and Apple Play Stores.
The course has 4.6/5 feedback score after 13052 ratings. Total 51,949 students have enrolled in the course until January 18, 2018. The instructor of this course is Stephen Grider, an engineering architect.
If you want to know more visit this link
The stats for the courses in this post are current as of: January 18, 2018
The above-discussed are 5 most highly rated courses teaching Android App Development with the highest number of students enrolled, one can go for the most suited course and start building the mobile apps for Android OS.  We wish you all the best!